Yesterday all the members of our board traveled to Amsterdam in order to kick-start the campaign leading up to the national elections in 2021. It turned out to be an amazing day, full of positive energy and fighting spirit.
Sylvana Simons officially announced herself as candidate to lead the list going into the elections with a phenomenal speech: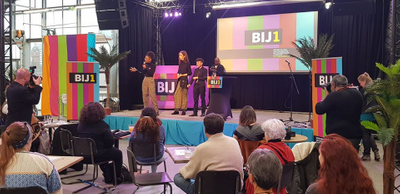 "BIJ1 exists because it's time for a new norm. BIJ1 exists because it's time to put a stop to the systems that oppress us. BIJ1 exists because we believe that we can change this country for the better, We believe that things can be different."
Two of the other speakers, Gloria Wekker and Willem Schinkel talked about the necessity of BIJ1. Especially during times where a fascist party like FvD is on course to become the largest national party.

We say it like it is. Fascists are fascists, racists are racists. One of our banners that states 'Against toxic masculinty, for radical equality' caused a stream of hate on social media. Sociologist Willem Schinkel sees this as proof that we're hitting where it hurts and we're doing what is needed to point towards these issues.
We aren't a party that uses soft language in order to make things look better than they are. The things we say might hurt some people, because who are we to demand a seat at the table? Who do we think we are, that we want to have a say? We provide a platform and a voice to those who haven't been heard. We want to be a safe space for people who aren't safe within our society.
Sylvana Simons
Rotterdam BIJ1 will do everything we can to support our national party to win seats in our parliament. Our focus will however always be in Rotterdam! De best city in this country, but one where so much must change and must be better.
On the 16th of February, we'd like to invite you to come to our event and talk to us about what you'd like to see from us! Interested? Sign up here