After a meeting, multiple social media messages implied that banners with racist remarks had been hung along the West-Kruiskade in Rotterdam. We hoped that these were the result of Photoshop, but after a quick glance the following day, we had to conclude they were real.
The people responsible are a collection of business owners whos' stores are set up along the street. They see it as nothing more than a 'funny joke', even though a banner with references to the Klu Klux Klan is among them. There are also banners jokingly referring to the ban on intimidation towards women. Unacceptable.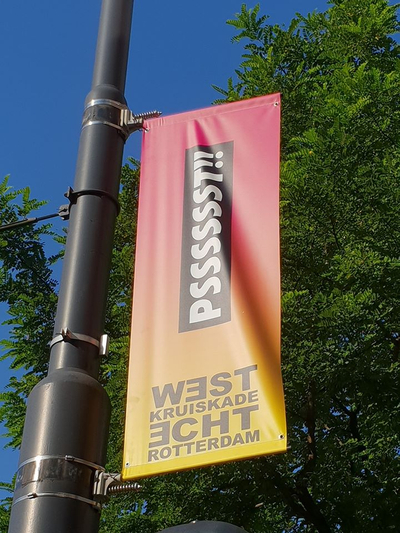 Being pressured by many Rotterdam citizens, de banner with the KKK reference has been removed. The various sexist remarks still remain, showing that the creators don't really understand the severity of the issue.
This goes against everything we stand for in our mission for radical equality and it's very strange to say the least that Leefbaar Rotterdam, the party that introduced the ban, on the other hand, seems to be completely fine with banners like these.
Tanya Hoogwerf, councilmember for Leefbaar, goes as far as saying we shouldn't be offended:
A few moments later, however, she spoke fondly of the enforcement regarding the ban on intimidation against women. How those two things can coexist, no one knows.
We don't understand why the banners haven't been removed as soon as the word came out. They were completely unacceptable. Racism and sexism are no jokes.