Minors that come in contact woth the police in Rotterdam, usually get the same treatment an adult would receive. From the age of 12, children who are suspected to have committed a crime, can be held in custody. During te day, they're often cold and due to the stress and trauma they won't dare to ask for a blanket. At night, the noise and general unrest that can be found in a cellbock often causes panic. BeIng completely unaware of the time also doesn't help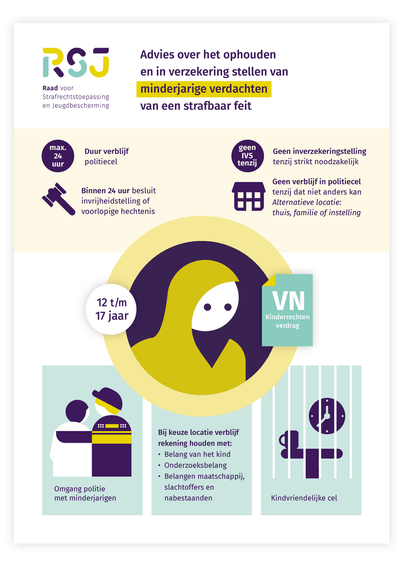 Recently, the commission for criminal law application and youth protection (known as the RSJ) finally advices against locking up minors in jailcells. They want minors to not be in custody in between adults for more than 24 hours. After that, they should be brought to a judge and if necessarry transferred to a more 'childfriendly' place. Currently, police is allowed to hold minors for 3 full days before a judge decided wether that is rightfull. If so, they are often still held with adults.
According to the national specialist in youth rights, the police looks at minors as suspects and often forget they're dealing with children. The RSJ advices a maximum of 24 hour custody. They also pleaded for 'childfriendly' cells with, for example, a bench, a clock and different coloured walls than the usual grey. Most European countries have already implemented this advice. A collective of lawyers specialized in youth rights already complained about the lack of action to police about 5 years ago.
We support the advice from the RSJ and calls for the Rotterdam police to stop locking children in jailcells. We also approve of the advice to create more 'childfriendly' cells and want more attention for the specific rights of minors. We'd prefer to never lock up minors. The treaty for childrens' rights clearly states that this should only be done if no other options are available.
Locking minors in jailcells is often traumatizing. We'd prefer is investigations happened at home or within special institutions, specifically dor minors. All children have a right to be protected, even if they are the suspect of a crime.
Note: we believe the same to be true for minor asylumseekers and/or refugees. We think it's a missed opportunity by the RSJ to not specifically name them as well.