Gentrification = changing the character of a neighborhood through the influx of more affluent residents and businesses, kicking out original households (with less income) in the process.
"Neighbourhoods don't become a better place by mixing lower, middle and higher incomes together" - social geographer Gideon Bolt in a recent article that talks about how more higher-income households supposedly improve area's and neighborhoods.
It's a current theme in Rotterdam: the active gentrification and difficulty to find cheaper housing, supported by the policies of the current council. It's a process seen all over the world, governments often pretending it's a natural process. 'Upgrading' area's basically means getting rid of the less wealthy households. Party Leefbaar Rotterdam never made it a secret they strive for more higher-income households, for example. People with less financial power are chased out of neighborhoods and sometimes even the city itself.
Housing corporations demolish social housing or renovate them in such a way the original owners can no longer afford it. It's disheartening to see so many people being chased out of the Afrikaanderwijk, just because our current council thinks it's an upgrade to replace them with wealthier households.
Instead of investing in strengthening the people in the southern part of the city, where most if this is taking place, it seems that everything is being done to scare away the people who currently live there and to permanently replace them. Why does the council not focus on education, good housing and good and sufficient facilities in the neighborhood? Why not look at ways to shape the improvement of these neighborhoods in a socially just manner? Instead, they choose to demolish 600 homes, with only 130 social housing units being restored. The rest of the new homes are more expensive and far above the rent subsidy limit. In the Bloklandstraat in the Oude Noorden area, the old houses have been demolished and 16 single-family homes are now under construction with rent going from 1,579 euros. The fact demolition and new construction are much more expensive than retaining and renovating the old houses, doesn't seem to matter, because this is 'better for the diversity in the neighborhood'.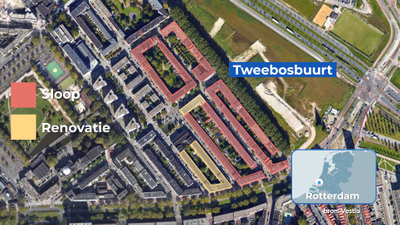 This year, various housing blocks with a total of 535 social housing units will be demolished in the Tweebos neighborhood. Only 374 homes will replace them, the majority of which will be owner-occupied homes. In total, around 12,000 social rental homes will be demolished in the same manner in the coming years (mainly in the south of Rotterdam) to make way for new and usually considerably more expensive homes. The municipality wants to increase the "quality of life" in neighborhoods such as Bloemhof, Hillesluis, and Afrikaanderwijk. What actually happens here, is the cleansing of neighborhoods by chasing away poor residents and ensuring that a return to these neighborhoods becomes unaffordable. Gentrification is ultimately just a process of exclusion and increasing inequality.
Another means that is used in addition to demolishing houses to ensure that neighborhoods 'get better', is the Rotterdam Act. In 2006, the Special Measures for Metropolitan Issues Act was introduced in Rotterdam. Article 8 of the Act, better known as the 'Rotterdam Act', offers municipalities the option of limiting the influx of population groups in a number of designated neighborhoods. Simply put, the law prevents non-working people (no income from work, pension or student finance) from these neighborhoods in Rotterdam-South.
Last year, the city council agreed to an extension of the Rotterdam Act. From March 1, 2019, an additional law article (Article 10) has been distributed in total with 31 streets across almost all neighborhoods in Rotterdam. In addition to the requirements that the Rotterdam Act already sets with regard to income and duration of living in Rotterdam, Rotterdam residents who want to rent a house in these streets are now also being screened for nuisance, criminal, extremist and radical behavior. Someone who wants to rent a home on one of these streets (or wants to register at a home) first needs permission from the municipality. Article 10 of the Rotterdam Act applies to all persons from 16 years and older. Article 10 will ultimately be applied in 90 streets of Rotterdam.
If people want to live in these streets, a screening form must be completed by the housing association. People are not screened on the basis of a conviction, but on the basis of a report to the police. So only the suspicion of a person can lead to the refusal of a home.
The Rotterdam Act is stigmatizing, discriminating and a violation of human rights. In addition, it has also been proven that the law has no positive effect on the quality of life and safety in the neighborhoods concerned. Rotterdam BIJ1, therefore, wants the Rotterdam Act to be stopped as quickly as possible. Our goal is to have radical equality in Rotterdam, also when it comes to housing. We want to make the radical change from a city that actually wants a different, wealthier population, to an inclusive city. From a policy that excludes and ignores large parts of the current population, to a Rotterdam for all Rotterdammers, now and in the future.