We received some wonderful news, coming from the Tweebosbuurt: A few of the residents have been allowed to stay. The ruling judge declared the cancellation of their contracts by housing corporation Vestia to be invalid as they failed to uphold certain standards. The residents were barely assisted in their search for alternative homes, if at all, and were left out of the conversation for far too long.
Vestia plans on demolishing over 500 cheaper homes to replace with bigger, more expensive housing. This specific ruling was directed towards 17 of the current residents that have so far refused to leave.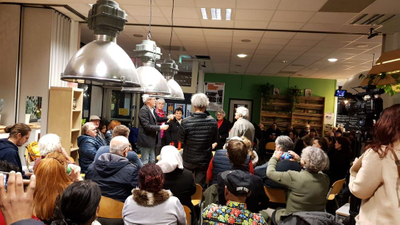 We attended a gathering in the neighborhood where the victory was celebrated. Politicians from different parties attended to share their views on the matter.
The PvdA (Labour party) refused to take a stance, continuously trying to point to mediation as a solution. A member of GroenLinks (Green party) proposed the residents that have already been evicted to return and stay in the homes illegally. An interesting point of view, seeing as GroenLinks supports the demolition plans.
We believe the plans for demolition should be stopped immediately and will keep a close eye on further developments.