Rotterdam BIJ1 and (A)wake organized the discussion panel 'The Price of Activism'. After showing the documentary 'Demon or Diva', in which party leader Sylvana Simons was followed during the campaign leading up to the municipal elections in Amsterdam, people had the opportunity to ask her and director Ingeborg Jansen questions about the process of creating the documentary and everything surrounding it.
After that, it was time for a conversation where Sylvana, Elvin Rigters (Kick Out Zwarte Piet) and Vatan Hüzeir (Changerism) talked about the price they pay for their respective activism. A word of thanks goes out to the presenter, Kauthar Bouchallikht. Thanks to her guidance, the conversation all got the required time and space to talk about their experiences and to communicate with the audience.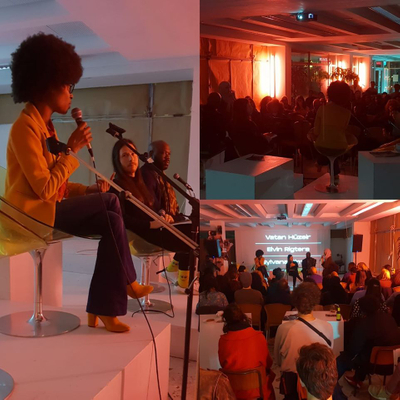 The importance of activism during a time where fascism is on the rise, even in politics, is very clear. Activism combined with politics often leads to heated debates. Activism is incredibly important, but it often comes with a price.
Taking care of yourself is hugely important. As a political party that combines our politics with activism, it's something we always try to look out for. We sincerely hope everyone attending the evening walked away with something they can use for themselves and we look forward to seeing everyone at future events!