It's an early morning in December 2019 as we're walking through de Afrikaanderwijk. The sidewalk appears to be blocked by a heap of garbage. If you look closely, however, you'll see that this is someones' life, laying there out in the open. Something we've seen far too often in the past few months.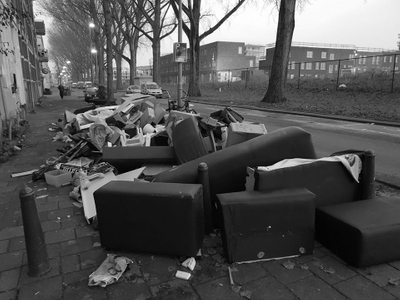 Unfortunately, some people spent their holidays packing their stuff and moving out of their neighborhood. A place some might have been living for decades, but now have to leave without a choice in the matter.
Because the neighborhood needs to improve. New people need to be brought in. 'Better' people, richer people. Because all the empty houses make for a grim sight, the council has asked artists to decorate them (See photo)
Those are the current ways of this council. To paint the perfect picture. Where expensive new homes are built and rich people fill the neighborhoods.
The old houses of those who are no longer deemed 'good enough' will be destroyed, but they'll hide that they are doing it.
Rotterdam appears to have become the city of hiding the truth. Our cities slogan, 'not words, but deeds' has slowly changed into 'nice words, but no deeds'.
Of course, it's nice to hear Johan, the man who has been making sandwiches for hundreds of children living in poverty, is gifted an electric car. But maybe we should start talking about how absolutely unacceptable it is that the parents these children can't afford food in the first place.
In the meanwhile, 13 million is being spent on an international festival, as the Eurovision will be hosted in Rotterdam this year. The council has tried to gift citizens living in poverty entry tickets, but to their disappointment, have to conclude nearly no one wants them. Had it not occurred to them, that people who often can barely afford to eat have no interest whatsoever to attend a shiny, expensive festival? Or that a lot of them don't even have to money to travel to the location?
Another example of this 'pretending' is how proud our mayor was in taking the initiative in banning black Pete from our Sinterklaas celebration in the city, even though they are still wearing afro-wigs and most other places in the city are covered in decorations and living examples of the racist caricature, a lot of them still paid for by the council.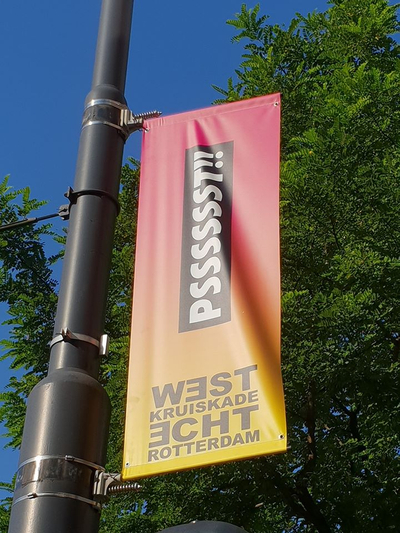 Rotterdam also wants to take initiative when it comes to street-intimidation. This because last year, a ban got installed. It's quite remarkable, to say the least, that the same party who vouched for the ban, is absolutely fine with banners including sexist remarks.
In December of 2018, we joined a silent march to raise awareness when it comes to violence committed against women. Three young women were murdered in one month. Now, in December of 2019, we know that at least one of the murders, the one on the 16-year-old Humeyra, could have been prevented if only the police had listened to her pleas for protection.
The council needs to take the responsibility and start creating legislation that works for prevention, treatment, protection, and aftercare. We can't understand how a party that supports the ban on intimidation, thinks our complaints about sexist phrases are 'snowflake'.
We're also the city where one in every four children is suffering from poverty. No city has a higher percentage of poverty among children than we do - 16,7%. Nearly 9% higher than the national average percentage.
We're a city with one of the most racist police forces in the country. Our police make the news far too often for yet another brutal beatdown of an innocent person, often aimed at people of colour.
We're a city where hate is welcomed during Pride. We joined the activists of 'Resist Their Reignbow' because we believe the purpose and values of Pride should never be forgotten. It's unacceptable that the community has to deal with hate and intolerance at their own Pride. The fact the board of the organization was 'surprised' to hear of the demonstration, shows how little investment they have for the actual community.
For 2020, we wish a city of not just words, but deeds. Deeds that matter. Deeds that make the life of the people living here better.
This is our city, all of us. The best city in the country, but at the same time, a city with too many problems to even state.
We wish you all a 2020 of radical equality and economic justice. We will continue to fight for these values. For a better Rotterdam.