Mayor Aboutaleb recently told reporters how proud he was of the initiative that Rotterdam took by banning black Pete in the main Sinterklaas celebration in Rotterdam.
Of course, we're happy that this step has finally been taken as well. In the past few years, we've addressed this issue during council meetings many times. To strive for celebrations free or racism, for all children to enjoy. The response would be the same every single time: we're not going to get involved. Remarkable then, to see how this step has been taken so all of a sudden.
We believe we have only one group to thank for this: the Kick Out Zwarte Piet activists who put their bodies on the line year in, year out to show that there is no room for racism in Rotterdam. During their struggle, they have been lied to, hindered and their right to protest was taken from them, all by the same mayor.
We want a celebration for everyone to enjoy. Whether it's in schools, community centers, playgrounds or in shops. Only if we as a city have accomplished that, we're allowed to say we took the initiative. When we show that every child matters and we should protect their rights and safety.
Last year, fellow party NIDA asked questions about the amount of money spent on celebrations including racism. The total amount was over 100.000 euros, despite the law stating that giving money towards activities where discrimination on any base is used, is forbidden.
We would like to initiate another conversation on the topic. To do so, it's important to uncover how many instances and celebrations in Rotterdam still aren't free of racism.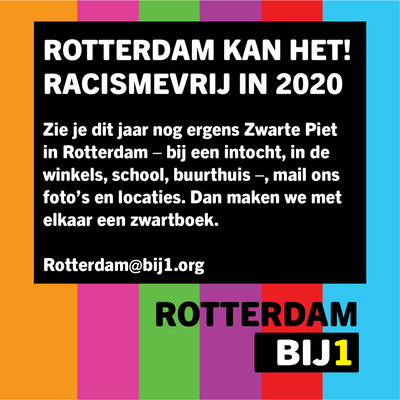 That's why we've called upon Rotterdam citizens to share sightings of racism in any form within the city with us, so that we may collect these and use as evidence in our fight for an inclusive celebration.
We want to create an overview of the number of schools, playgrounds, shops, community centers where the racist caricature is still being used - both in the flesh, as well as decorations of any kind.
We will continue our fight for a celebration free of racism for all children in Rotterdam.