A study in 2018 showed that festivals in Rotterdam are far from friendly towards people with a physical disability. Multiple people using a wheelchair joined a journalist to see how hard it would be for them and the results were far from great. People got stuck on fences or in muddy terrain and toilets were extremely hard to reach, if at all. Emergency exits also proved far from easy to reach.
The results of this study were given to the council and actions were taken to make festivals more accessible in 2019. One of these actions is the creation of a required checklist and the results of these implementations will be discussed in 2021.
Conversations with Rotterdam citizens with a physical disability show us that not a lot has changed, however. People are confronted with the exact same issues. We inspected four festivals and concluded the same thing.
The Netherlands signed the UN-agreement that talks about the complete inclusion of people with a physical disability within our society. One in every eight people in this country has a disability, a large group that at this moment in time, can't fully enjoy the festivals in 'event city' Rotterdam. We don't understand why another two years are needed for further evaluation, as it's clear what needs to be done.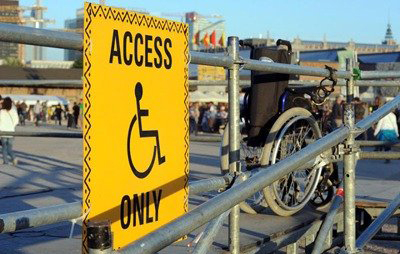 In the past few months, a lot of money has been spent on creating a plan to host the Eurovision Songfestival, but direct steps to solve these problems are yet to be made. Unacceptable.
We want to call upon the council not to wait until 2021, but to act now. Everyone should be able to enjoy the variety of festivals this city has to offer.