On Sunday, February 16, we organized our first meeting of the year: 'Verklaar BIJ1 de Liefde'. We spoke with members and sympathizers about left-wing politics in Rotterdam, topics that are important and how people can contribute to our movement. Despite a stormy day, the turnout was fantastic. Dozens of people came to the HipHopHuis, including many new faces.
The afternoon started with a brief introduction of the national party, such as the various committees, the kick-off campaign and of course our new website. We also briefly looked back at the period since the general meeting and the election of our first board in October last year. After a fantastic spoken word performance by Deedovich on the theme of 'love for fellow human beings', the main program started.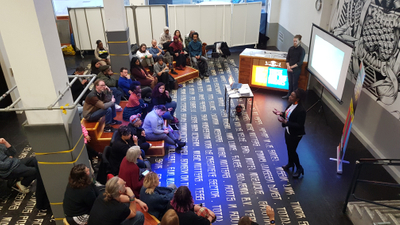 The attendees were allowed to submit themes via an interactive 'mind map', which we could then discuss. Opinions, experiences, and solutions were shared, among other things, about the enormous gentrification problem in Rotterdam, about poverty, education, climate, decolonization and much more.
A marvelous performance by Mariseya then started a short break, after which we discussed in an informal living room atmosphere what we can do for each other, how important it is, certainly for a smaller party, to join as a member and people could indicate what they could and would like to do for us.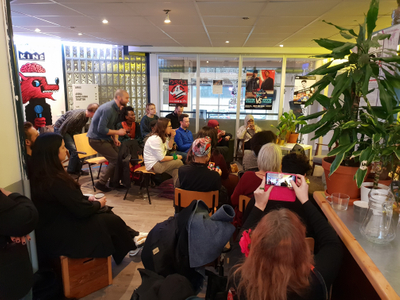 We would like to thank everyone for their presence, input, and feedback. The people who filled in the contact-form will hear from us soon. Together we'll build a fair and just movement in Rotterdam!